A 45-minute boat ride from the mainland, Sheybarah is one of Red Sea Global's most ambitious islands, with futuristic stainless steel villas that float over the water, reflecting the sea, sky, and reef below. The villas, manufactured by Grankraft in Sharjah Free Zone, each have sliding doors that open to a deck, a seating space, and an infinity pool with views of the Kingdom's pristine waters. Naturally, creating such structures is quite an engineering feat, with several companies and consultants coming together to ensure that each overwater 'orb', weighing around 150 tons, will be a dream luxury destination for guests.
Within this brief, it is vital to ensure that guests are kept comfortable at all times, not only with regard to temperatures inside the villas but also aspects such as the possibility of any noise pollution due to expansion and contraction. This called for a thermal cycling test, which is designed to evaluate the impact of subjecting a system and its components to accelerated cycles that mimic exposure to temperature changes. The system is exposed to a number of repeat cycles ranging from high to low temperatures according to project requirements. Further assessment can be done by follow-up tests, measurements, or studies. During the test specific data can be captured to assist the design and execution team in better understanding an assembly or substantiating design parameters. But this particular test asked more than most; for this was the biggest thermal cycling test the world had ever seen!
In this issue of Saudi Projects, we speak to three of the people tasked with carrying out this test, circumnavigating a number of challenges as they progressed in order to capture data that will ultimately ensure that Sheybarah really does become a fantasy island for those lucky visitors who will begin to arrive as early as next year.
Attempting What Had Never Been Done Before
"We were responsible for assisting the engineering consultancy team with the design," explains Michelle Bacellar, Technical Director, Meinhardt Façade Technology. "Killa Design came up with the vision for the villa and we developed the technical details for the facade design.
"During the design stage process, we went through a series of options for different cladding construction, and various cladding materials. In the end, it was agreed that the cladding material that most closely achieved the design vision was stainless steel, with the shell being completely welded together forming one large facade unit.
"Typically, a standard façade system will consist of independent façade panels, that are separated by joints. The joints can be designed to accommodate any movement from the base structure or as a result of thermal loads. In Sheybarah however, the building facade consists of one singular shell, without any joints, therefore the behaviour of this facade under temperature loads was of great concern during the design stage. "
It was Thomas Bell-Wright International Consultants, one of the leading testing companies in the region, having worked on such blue-chip projects as The Museum of the Future and Riyadh Metro, that carried out the testing. "Our role was basically to provide a specific and bespoke thermal cycling test for one entire villa of this amazing project," says Sandy Dweik, CEO, Thomas-Bell Wright International.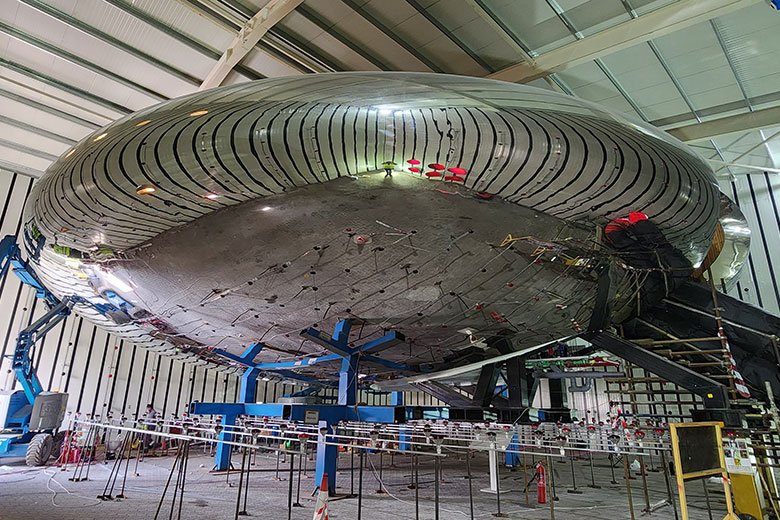 We had to construct a chamber for the cooling and heating cycles that was larger than the villa itself
Normally a thermal cycling test is carried out on a representative mock-up of the project facade in our laboratory. And these would be around five meters by ten meters, whereas, in this particular project, we were tasked with testing a full villa. So basically we had to construct a chamber for the cooling and heating cycles that was larger than the villa itself, situated in the manufacturer's facility. Thermal cycling on this scale, which is about 80 times what we usually conduct, had never, as far as we are aware, been attempted before.
Before the thermal testing, of course, the villas went through a series of different trials, looking at the varying thicknesses and supportive arrangements of the shells, as well as what deflection could be accepted visually by the architectural team. "We had the deflective criteria and the deflective limitations that are born from a structure perspective," Michelle says. "But this project was very much aesthetic-driven, so we had to limit the reflection to ensure we didn't get too much information that would affect the visual aspect of the shell and create too much deformation on the reflective images. Now, a lot of these things we can obviously engineer and we did, so during the design process we've engineered and we've plotted different deflective shapes because the look of the villas is of primary importance."
Tarek Bayoumy, Executive Director – Architecture at Red Sea Global, takes up the story: "Our main intent when we started to work on this project was to create a fantastic stainless steel orb without any joints – it's never been done before. We have a lot of parameters that we have to adhere to, following all of the international standards for any hospitality project regarding, for instance, acoustics and thermal. And our specialist consultants put forward a number of recommendations, one of those being thermal testing."
"When we started thinking about this concept and how it would react with the marine environment in Sheybarah, we started considering steel structure expansion, the steel grade, and how all of this material together would react to the weather and environment" adds Mohamed Moustafa, Director – Architecture, Red Sea Global. "So we laid out those parameters at the beginning and started to make some assertions about how we would achieve them.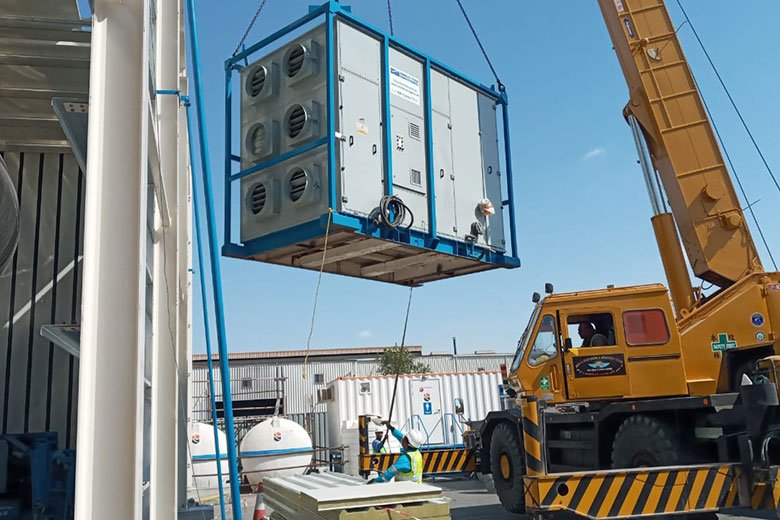 We were carrying out a test that didn't yet exist!
A Big Decision
Thermal cycling tests are commonly performed on a wide range of products, including electronic components, integrated circuits, automotive parts, aerospace components, materials used in construction, and consumer goods … but never before on an entire villa. So, were there particular challenges or was it simply a case of scaling up?
Sandy explains: "Well, a little bit of both – the scale was quite large and we had to build a chamber that's 22 meters by 22 meters and 11 meters in height. We had to build a steel structure with insulated cladding panels fitted to it and we had to build it around one of the villas. So the entire villa was contained inside the chamber and, of course, at the same time, we had to be careful not to damage the villa while we worked around it.
"We had to put the the structure up and also had to install our equipment – we had to install the sensors and the cooling and heating equipment within the confined area around the villa.
So it was really quite challenging."
"Yes, when we were exploring our options to do this thermal testing, at first we took a small portion and carried out thermal testing on that," says Tarek. "The facility in the UAE was perfect for doing that. But when we discussed it with our specialist consultants they told us that the parameters from that particular test would not be sufficient to allow us to be confident about the conclusions. They recommended that we build a complete enclosure around one complete villa, which we did. It was a big decision at that time to build a complete enclosure for a one-bedroom villa. But it allowed us to fully test our design."
A thermal cycling test involves subjecting the test sample to a series of temperature cycles, typically ranging from low to high temperatures or vice versa. "Thermal cycling tests in general are designed to do an accelerated weather cycle," explains Sandy. "In real life, you would have summer and winter cycles, and when you conduct a thermal cycling test you provide an accelerated cycle, monitoring the assembly to see how it would endure this cyclic effect. In this case, the project had a particular requirement to go from a temperature of 5 degrees C to a maximum of 85 degrees C, which is what we do for thermal cycling tests in many projects in this region.
"Because of the size of this project, though, we brought in industrial-sized chillers and air handling units to deliver the cold air, and for the hot cycle, we had to provide infrared lamps and load banks. To complicate things even further, the temperature inside the villa had to be in liveable conditions, which is around 24 degrees, plus or minus 3 degrees. So while we were doing the heating and cooling cycles in the chamber around the villa, the temperature inside of the villa had to be more or less constant."
"Noise generated by the facade under thermal expansion was another huge concern we had during the design stage because this is something we cannot engineer," Michelle says. "We needed to test the full-scale villa to ensure that the shell movements under temperature loads would not generate any noises, particularly considering that this is a hyper-luxury hotel. In addition, the larger temperature changes occur usually early morning or late afternoon, when it is very likely that guests will be in the villas. Consequently, any noises that could be heard inside the villa would not be acceptable, so for us, it was very important to have this verified by testing.
"We had audio recording equipment inside the villa that would capture any noises that were generated during the test. This is something that required a lot of communication and debate with Thomas Bell-Wright because we knew we could record the sounds, but we needed to know where the sounds were coming from.
"To facilitate this, Thomas Bell-Wright engaged the services of a specialist acoustician who came up with the idea of fitting, in different areas of the villa, vibration sensors, which would align with any sound produced and be able to capture where the sound was coming from. So it was a very extensive preparation."
There were things that we noticed during the test, like the insulation inside the villa exceeded our expectations
Exceeding Expectations
Thermal cycling tests provide valuable data for product design, quality control, and reliability assessment, but it's far from a simple process. "We hooked up the large thermal cycling chamber to a set of equipment and then we had to link the villa up to another set of equipment at the same time, so we were running two systems in order to achieve our thermal cycling process," Sandy says. "This is a unique project, it's not like a normal standard test, we had to break everything down and explain it all in detail, submit it to the project team, and then discuss it with them in order to reach the best possible solution, enabling them to gather as much information as possible about the villa during the thermal cycling test."
It was not just the scale and complexity of the thermal testing either, as Michelle explains: "We were carrying out a test that didn't yet exist! So we then had to come up with a testing regime that could somehow satisfy us that the design covered all of those aspects."
This included 're-inventing' certain pieces of equipment, such as the cameras, with Sandy saying: "The problem with cameras is that at high temperatures, above 50 degrees, their performance cannot be guaranteed – they will most probably fail. We looked at several potential options but couldn't find the resolution we were looking for. So we decided to go with eight SLR cameras, but we had to modify them. We completely disassembled the camera into two parts – the parts that were inside the thermal cycling chamber were the lens and shutter, and these were connected by an insulated wire to the rest of the camera, which is the electronic part of the camera, located outside of the thermal cycling chamber. This is how we monitored the surface of the villa during the tests. The cameras were hooked up to the software by isolating the camera into two parts."
"Yes, the cameras had to be able to stand high temperatures, and we carried out the tests four times to make sure we got all of the data we needed, allowing us to go back to our specialist consultants for further analysis," Tarek says. "And some of the results even exceeded expectations. These villas, of course, will not be experiencing the extremes of temperatures we used in the thermal testing, but those are the tests, they need to go with the parameters, taking things to the extreme.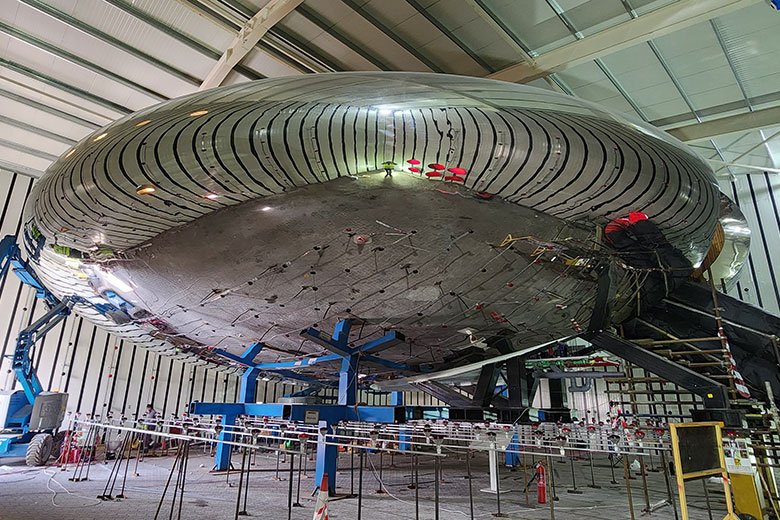 Confirmation of Superior Design and Engineering
During thermal testing, several surprises or unexpected results can arise that may require further investigation, particularly on this project, which was more complex than most. "This test was quite a complicated process," Sandy says. "It was part of a quality assurance study for this villa and we were able to get a lot of data for the project team to test against the performance and design parameters desired. For example, there were things that we noticed during the test, like the insulation inside the villa exceeded our expectations, so we were able to maintain the temperature inside the villa quite easily at a constant temperature while we had the thermal cycling taking place outside."
"It was very difficult at the beginning, which was to be expected with something that had never been done before," Michelle says. "So there was a little bit of time spent fine-tuning and making sure that we could achieve the two upper and lower temperatures. But in the end, it is a confirmation that the whole villa was behaving like it had been engineered to do."
"During the first cycle there were minor things but nothing alarming – so the results were in line with our expectations and there were no major worries or risks. We viewed the design and all the parameters very, very carefully several times; we got third parties for our reviews. And we are now pleased to say that Sheybarah Resort, which is an off-grid, zero-energy, and zero-water development focused on sustainable designs of hospitality, will be welcoming its first guests in 2024," Tarek concludes